The Dirty Dozen - (1967) - Netflix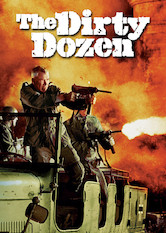 2h29m -
Critically-acclaimed Films
So entsperren Sie jede Film- und Fernsehsendung auf Netflix
2h29m -
Critically-acclaimed Films
In this Academy Award-winning World War II flick, a U.S. Army major is tasked with turning a group of conscripted convicts into a crack fighting unit.
Regisseur:

Robert Aldrich

Besetzung:

Robert Webber

,

Richard Jaeckel

,

Telly Savalas

,

George Kennedy

,

Jim Brown

,

Ralph Meeker

,

Robert Ryan

,

John Cassavetes

,

Charles Bronson

,

Lee Marvin

,

Donald Sutherland

,

Ernest Borgnine

,

Clint Walker

,

Trini LÁ³pez

Netflix-Wertung:

7.8/5
Rotten Tomatoes Wertung:
0/100
Verfügbar in:

Nicht verfügbar, wo Sie wohnen? Erfahren Sie, wie Sie Netflix entsperren und diesen Titel ansehen.

Verfügbar seit:
2019-12-01
Trailer:
Ähnliche Titel:

Zusammenfassung
A Major with an attitude problem and a history of getting things done is told to interview military prisoners with death sentences or long terms for a dangerous mission; To parachute behind enemy lines and cause havoc for the German Generals at a rest house on the eve of D-Day.
Andere Titel die gerade angesehen werden