Police Academy 5: Assignment: Miami Beach - (1988) - Netflix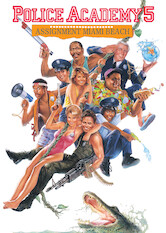 1h29m -
Action & Adventure
1h29m -
Action & Adventure
After descending upon Miami, Capt. Harris and a group of former academy misfits find themselves embroiled in massive crime ring involving stolen gems.
Regisseur:

Alan Myerson

Besetzung:

Bubba Smith

,

G.W. Bailey

,

Leslie Easterbrook

,

Lance Kinsey

,

George Gaynes

,

David Graf

,

Michael Winslow

,

Matt McCoy

,

Janet Jones

,

Marion Ramsey

Netflix-Wertung:

4.5/5
Rotten Tomatoes Wertung:
0/100
Verfügbar in:

In deiner Region nicht verfügbar? Melde dich bei ExpressVPN an und schalte Netflix frei!

Verfügbar seit:
2019-05-01
Trailer:
Ähnliche Titel:

Zusammenfassung
The old Commandant Lassard, leader of the Police Academy (1984), goes to Florida to receive an award. In the city arrives also the cynic Captain Harris who wants to take Lassard's job. Harris wants to place himself in a favourable light in front of the high military hierarchy but, at the airport, Lassard exchanges his bag with another one...
Andere Titel die gerade angesehen werden