A Christmas Tale - (2008) - Netflix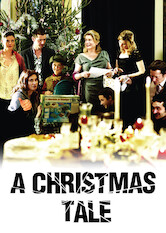 So entsperren Sie jede Film- und Fernsehsendung auf Netflix
2h25m -
Dramas
This artfully unconventional tale follows the members of a dysfunctional family who come together for an animosity-filled Christmas reunion.
Regisseur:

Arnaud Desplechin

Besetzung:

Laurent Capelluto

,

Hippolyte Girardot

,

Chiara Mastroianni

,

Catherine Deneuve

,

Francoise Bertin

,

Jean-Paul Roussillon

,

Emmanuelle Devos

,

Anne Consigny

,

Mathieu Amalric

,

Emile Berling

Netflix-Wertung:

7.1/5
Rotten Tomatoes Wertung:
0/100
Verfügbar in:

Nicht verfügbar, wo Sie wohnen? Erfahren Sie, wie Sie Netflix entsperren und diesen Titel ansehen.

Verfügbar seit:
2019-12-01
Trailer:
Ähnliche Titel:

Zusammenfassung
The Vuillard family gathers: Junon and Abel, a daughter Elizabeth and her son Paul, Henri and a girlfriend, Ivan, his wife Sylvia and their young sons, and cousin Simon. Six years before, Elizabeth paid Henri's debts and demanded he never see her again or visit their parents' home. Paul, at 16, has mental problems and faces a clinical exam. Junon learns she needs a bone marrow transplant if she's to live beyond a few months: thus the détente bringing all together. Two family members have compatible marrow, but the spats, fights, cruel words, drunken toasts, and somewhat civilized bad behavior threaten all; plus Junon may simply refuse treatment. Do we know ourselves?
Andere Titel die gerade angesehen werden