C Kkompany - (2008) - Netflix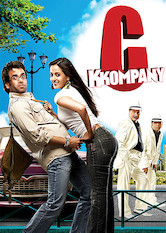 2h6m -
Action & Adventure
So entsperren Sie jede Film- und Fernsehsendung auf Netflix
2h6m -
Action & Adventure
To blow off some steam, friends Akshay, Joshi and Lambodar, posing as a gang called C Kkompany, make a phony extortion demand to Joshi's apathetic son. The trio is shocked when their prank call makes them anonymous celebrities.
Regisseur:

Sachin Yardi

Besetzung:

Mithun Chakraborty

,

Lalit Parashar

,

G.K. Desai

,

Ekta Kapoor

,

Mahesh Bhatt

,

Celina Jaitly

,

Ashok Pandit

,

Anupam Kher

,

Tusshar Kapoor

,

Karan Johar

,

Raima Sen

Netflix-Wertung:

5.4/5
Rotten Tomatoes Wertung:
0/100
Verfügbar in:

Nicht verfügbar, wo Sie wohnen? Erfahren Sie, wie Sie Netflix entsperren und diesen Titel ansehen.

Verfügbar seit:
2019-05-30
Ähnliche Titel:

Zusammenfassung
Ramakant Joshi, Lambodar Jha and Akshay Kumar are residents in the 'C' block of a Mumbai Apartment complex with monetary issues. They decide to create a fake organization 'C Company' in order to extort 1 Crore Rupees from Ramakant's son, Purshottam. While Ramakant hopes to recover the costs involved in his ungrateful son's upbringing; vertically-challenged Lambodar, who is the same height as his school-going son, hopes to boost his career; while Akshay hopes to elope with a gangster's daughter, Priya, to Dubai. Things hilariously get out of hand after the trio decide to assist other beleaguered Indians - putting themselves in the bad books of the Government; the Police, including 'encounter specialist' Inspector Jawle; as well as the underworld led by a Balaji TV-serial addict, Dattubhai.
Andere Titel die gerade angesehen werden