Justice League: Cosmic Clash - (2016) - Netflix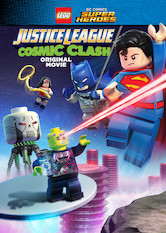 1h18m -
Children & Family
So entsperren Sie jede Film- und Fernsehsendung auf Netflix
1h18m -
Children & Family
Batman and the Justice League face off against the super-intelligent machine villain Brainiac, who has added Earth to his list of planets to conquer.
Regisseur:

Rick Morales

Besetzung:

Phil LaMarr

,

James Arnold Taylor

,

Jason Spisak

,

Andy Milder

,

Troy Baker

,

Phil Morris

,

Khary Payton

,

Jessica DiCicco

,

Josh Keaton

,

Yuri Lowenthal

,

Kevin Michael Richardson

,

Kari Wahlgren

,

Nolan North

,

Grey Griffin

Netflix-Wertung:

6.5/5
Rotten Tomatoes Wertung:
0/100
Verfügbar in:

Nicht verfügbar, wo Sie wohnen? Erfahren Sie, wie Sie Netflix entsperren und diesen Titel ansehen.

Verfügbar seit:
2019-03-01
Trailer:
Ähnliche Titel:

Zusammenfassung
Can the Justice League prevail against an unstoppable intergalactic machine with the power to bend time itself!? Until now, the Justice League has triumphed over every foe who has challenged them. This time, they face Brainiac, a super-intelligent invulnerable machine whose mad quest endangers all life in the galaxy. When Brainiac zaps Superman, Wonder Woman and Green Lantern to different places in time, the race is on for Batman and The Flash to re-assemble the Justice League!
Andere Titel die gerade angesehen werden