Mine - (2016) - Netflix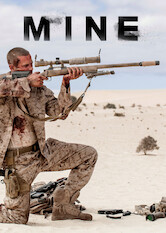 So entsperren Sie jede Film- und Fernsehsendung auf Netflix
1h46m -
Dramas
When a Marine's mission goes awry, he must survive behind enemy lines -- without stepping off a mine -- among the harsh elements of a desert war zone.
Regisseur:

Fabio Guaglione

,

Fabio Resinaro

Besetzung:

Ines Pinar Mille

,

Annabelle Wallis

,

Tom Cullen

,

Juliet Aubrey

,

Geoff Bell

,

Armie Hammer

,

Clint Dyer

,

Luka Peroš

,

David Kirk Traylor

,

Daniel Sandoval

,

Edoardo Purgatori

Netflix-Wertung:

5.9/5
Rotten Tomatoes Wertung:
17/100
Verfügbar in:

Nicht verfügbar, wo Sie wohnen? Erfahren Sie, wie Sie Netflix entsperren und diesen Titel ansehen.

Verfügbar seit:
2019-03-01
Trailer:
Ähnliche Titel:

Zusammenfassung
In the middle of the desert, an area filled with 33 million blast mines scattered everywhere, marine sniper Sergeant Mike Stevens is on a mission to locate and neutralize the leader of a terrorist cell. After three months and six days in the desert, one single moment of hesitation is enough to blow the entire mission, and now Sergeant Stevens is stranded in a hostile guerrilla territory all alone, and to make matters worse, with his left foot on an active mine. Against the harsh environment, without water, the sergeant must stay glued to the spot and use his Marine training, his resourcefulness and his perseverance for the next 52 hours until a convoy arrives in his area. Between the scalding heat of the day and the freezing cold of the night, if Sergeant Stevens wants to survive, he must fight not only the mighty forces of nature but also the greatest adversary of them all: himself.
Andere Titel die gerade angesehen werden