Roman Israel, Esq. - (2017) - Netflix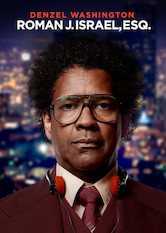 2h2m -
Dramas
A savant-like civil rights defense attorney is faced with an enormous moral decision when his simple, ossified life is thrown into turmoil.
Regisseur:

Dan Gilroy

Besetzung:

Lynda Gravatt

,

Amanda Warren

,

Hugo Armstrong

,

DeRon Horton

,

Sam Gilroy

,

Carmen Ejogo

,

Denzel Washington

,

Colin Farrell

,

Tony Plana

,

Amari Cheatom

Netflix-Wertung:

6.4/5
Rotten Tomatoes Wertung:
0/100
Verfügbar in:

In deiner Region nicht verfügbar? Melde dich bei ExpressVPN an und schalte Netflix frei!

Verfügbar seit:
2019-10-09
Trailer:
Ähnliche Titel:

Zusammenfassung
INNER CITY is a dramatic thriller set in the underbelly of the overburdened Los Angeles criminal court system. Denzel Washington stars as Roman Israel, a driven, idealistic defense attorney who, through a tumultuous series of events, finds himself in a crisis that leads to extreme action. Colin Farrell costars as the monied, cutthroat lawyer who recruits Roman to his firm.
Andere Titel die gerade angesehen werden