The Little Stranger - (2018) - Netflix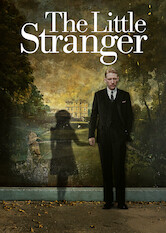 1h51m -
Horror
A doctor is summoned to an elegant manor home to tend to an ill maid but finds supernatural secrets that connect to his past.
Regisseur:

Lenny Abrahamson

Besetzung:

Kathryn O'Reilly

,

Harry Hadden-Paton

,

Oliver Zetterstrom

,

Dixie Egerickx

,

Kate Phillips

,

Liv Hill

,

Domhnall Gleeson

,

Josh Dylan

,

Charlotte Rampling

,

Will Poulter

,

Ruth Wilson

Netflix-Wertung:

5.6/5
Rotten Tomatoes Wertung:
0/100
Verfügbar in:

In deiner Region nicht verfügbar? Melde dich bei ExpressVPN an und schalte Netflix frei!

Verfügbar seit:
2019-05-01
Trailer:
Ähnliche Titel:

Zusammenfassung
In post-WWII Britain, a doctor revisits a crumbling great house called Hundreds Halls where his mother once worked as a nurse maid. The owners are losing the house because they can't afford the taxes, even though they say the home is haunted by the malevolent ghost of their mother's first born daughter. The doctor becomes obsessed with marrying one of the owner's daughters, and bad things happen.
Andere Titel die gerade angesehen werden