Bohemian Rhapsody - (2018) - Netflix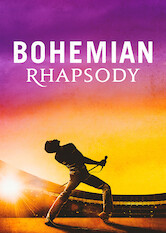 So entsperren Sie jede Film- und Fernsehsendung auf Netflix
2h14m -
Dramas
A shy misfit transforms into iconic Queen singer Freddie Mercury in this biopic inspired by the band's tumultuous rise to fame and personal struggles.
Regisseur:

Bryan Singer

,

Dexter Fletcher

Besetzung:

Rami Malek

,

Ben Hardy

,

Gwilym Lee

,

Joseph Mazzello

,

Allen Leech

,

Lucy Boynton

,

Mike Myers

,

Aaron McCusker

,

Aidan Gillen

,

Tom Hollander

,

Meneka Das

,

Ace Bhatti

,

Max Bennett

Netflix-Wertung:

7.9/5
Rotten Tomatoes Wertung:
NA
Verfügbar in:

Nicht verfügbar, wo Sie wohnen? Erfahren Sie, wie Sie Netflix entsperren und diesen Titel ansehen.

Verfügbar seit:
2021-09-11
Trailer:
Ähnliche Titel:

Zusammenfassung
Bohemian Rhapsody is a foot-stomping celebration of Queen their music and their extraordinary lead singer Freddie Mercury. Freddie defied stereotypes and shattered convention to become one of the most beloved entertainers on the planet. The film traces the meteoric rise of the band through their iconic songs and revolutionary sound. They reach unparalleled success but in an unexpected turn Freddie surrounded by darker influences shuns Queen in pursuit of his solo career. Having suffered greatly without the collaboration of Queen Freddie manages to reunite with his bandmates just in time for Live Aid. While bravely facing a recent AIDS diagnosis Freddie leads the band in one of the greatest performances in the history of rock music. Queen cements a legacy that continues to inspire outsiders dreamers and music lovers to this day.
Andere Titel die gerade angesehen werden