Dragged Across Concrete - (2018) - Netflix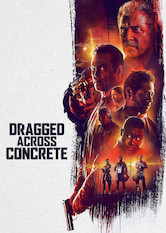 So entsperren Sie jede Film- und Fernsehsendung auf Netflix
2h38m -
Dramas
Two tough cops are suspended after assaulting a suspect. Desperate for cash, they turn to the dog-eat-dog criminal underworld.
Regisseur:

S. Craig Zahler

Besetzung:

Vince Vaughn

,

Fred Melamed

,

Tory Kittles

,

Thomas Kretschmann

,

Michael Jai White

,

Mel Gibson

,

Jennifer Carpenter

,

Laurie Holden

,

Udo Kier

,

Don Johnson

Netflix-Wertung:

7.0/5
Rotten Tomatoes Wertung:
0/100
Verfügbar in:

Nicht verfügbar, wo Sie wohnen? Erfahren Sie, wie Sie Netflix entsperren und diesen Titel ansehen.

Verfügbar seit:
2019-11-29
Trailer:
Ähnliche Titel:

Zusammenfassung
The script centers on two policemen, one an old-timer (Gibson), the other his volatile younger partner (Vaughn), who find themselves suspended when a video of their strong-arm tactics become the media's cause du jour. Low on cash and with no other options, these two embittered soldiers descend into the criminal underworld to gain their just due, but instead find far more than they wanted awaiting them in the shadows.
Andere Titel die gerade angesehen werden