F.R.E.D.I. - (2018) - Netflix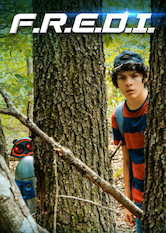 1h29m -
Sci-Fi & Fantasy
Venturing into the woods, high schooler James discovers an intelligent robot that he must save from the hands of a businessman with an evil scheme.
Regisseur:

Sean Olson

Besetzung:

Kelly Hu

,

Harvey Guillen

,

Lucius Hoyos

,

Casimere Jollette

,

Reid Miller

,

Angus Macfadyen

,

Candace Cameron Bure

,

Christina Cox

,

Tyler Christopher

,

Texas Battle

Netflix-Wertung:

5.1/5
Rotten Tomatoes Wertung:
0/100
Verfügbar in:

In deiner Region nicht verfügbar? Melde dich bei ExpressVPN an und schalte Netflix frei!

Verfügbar seit:
2019-10-07
Trailer:
Ähnliche Titel:

Zusammenfassung
An intelligent, lovable robot known as 'F.R.E.D.I.' is stolen from a secret research facility by the projects lead scientist. The robot is found by a 15 year old teenager, James. Soon the two begin to communicate and create a bond in which F.R.E.D.I. learns about teenage life and James learns about some new values.
Andere Titel die gerade angesehen werden