Holiday Rush - (2019) - Netflix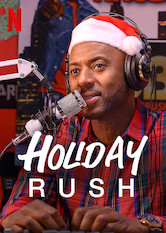 1h34m -
Dramas
A widowed radio DJ and his four spoiled kids need to tighten their belts and pull together when their life of luxury turns lean just before Christmas.
Regisseur:

Leslie Small

Besetzung:

Darlene Love

,

Deon Cole

,

Andrea-Marie Alphonse

,

Amarr M. Wooten

,

Sonequa Martin-Green

,

La La Anthony

,

Selena-Marie Alphonse

,

Deysha Nelson

,

Romany Malco

,

Stormi Maya

,

Tamala Jones

Netflix-Wertung:

0.0/5
Rotten Tomatoes Wertung:
0/100
Verfügbar in:

In deiner Region nicht verfügbar? Melde dich bei ExpressVPN an und schalte Netflix frei!

Verfügbar seit:
2019-11-28
Trailer:
Ähnliche Titel:

Zusammenfassung
After his sudden firing, a popular radio DJ moves in with his aunt, bringing along his four spoiled children, and a plan to return to the airwaves.
Andere Titel die gerade angesehen werden