Convict - (2014) - Netflix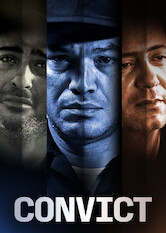 1h37m -
Dramas
Sentenced to death for committing rape, a convict navigates his final trying days alongside his allies and enemies in prison.
Regisseur:

George Basha

,

David Field and George Basha

,

Abdul Aziz Hashad

Besetzung:

Ahmed Azmy

,

Dina Fouad

,

Maha Sabry

,

Mohamed Sharaf

,

Inas Ezz El Din

,

Said Tarabeek

,

Ahmed Rateb

,

Ahmad Wafiq

,

Bassem Samra

,

Diaa El Merghany

,

George Basha

,

Richard Green

,

Brian Ellison

,

David Field

Netflix-Wertung:

5.4/5
Rotten Tomatoes Wertung:
0/100
Verfügbar in:

In deiner Region nicht verfügbar? Melde dich bei ExpressVPN an und schalte Netflix frei!

Verfügbar seit:
2019-06-13
Ähnliche Titel:

Zusammenfassung
Set in the dark and old Parramatta prison built by the original convicts our lead character Ray a war veteran finds himself serving 18 months for manslaughter after defending his fiance. He soon realizes that the prison boss has it in for him and does everything possible to break Ray even going after his fiance. He has to learn how to navigate his way around the internal politics and turf wars that exist and find a way to make it through to see his fiance again.
Andere Titel die gerade angesehen werden