The Professor and the Madman - (2019) - Netflix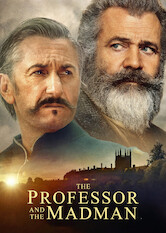 So entsperren Sie jede Film- und Fernsehsendung auf Netflix
2h4m -
Dramas
While working on the first Oxford English Dictionary, a scholar receives thousands of entries from a doctor with a lengthy vocabulary and dark secrets.
Regisseur:

Farhad Safinia

Besetzung:

Eddie Marsan

,

Jennifer Ehle

,

Sean Penn

,

Mel Gibson

,

Stephen Dillane

,

Steve Coogan

,

Ioan Gruffudd

,

Jeremy Irvine

,

Anthony Andrews

,

David O'Hara

,

Natalie Dormer

Netflix-Wertung:

7.3/5
Rotten Tomatoes Wertung:
0/100
Verfügbar in:

Nicht verfügbar, wo Sie wohnen? Erfahren Sie, wie Sie Netflix entsperren und diesen Titel ansehen.

Verfügbar seit:
2020-02-11
Trailer:
Ähnliche Titel:

Zusammenfassung
Professor James Murray begins work compiling words for the first edition of the Oxford English Dictionary in the mid 19th century, and receives over 10,000 entries from a patient at Broadmoor Criminal Lunatic Asylum, Dr. William Minor.
Andere Titel die gerade angesehen werden