True Story - (2021) - Netflix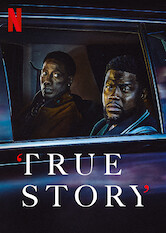 So entsperren Sie jede Film- und Fernsehsendung auf Netflix
TV Shows
A world-famous comedian desperately searches for a way out after a night in Philadelphia with his brother threatens to sabotage more than his success.
Regisseur:
-
Besetzung:

Kevin Hart

,

Wesley Snipes

,

Tawny Newsome

,

Theo Rossi

,

Will Catlett

,

Paul Adelstein

,

Ash Santos

,

John Ales

,

Chris Diamantopoulos

,

Lauren London

,

Billy Zane

Netflix-Wertung:

6.3/5
Rotten Tomatoes Wertung:
0/100
Verfügbar in:

Nicht verfügbar, wo Sie wohnen? Erfahren Sie, wie Sie Netflix entsperren und diesen Titel ansehen.

Verfügbar seit:
2021-11-24
Trailer:
Ähnliche Titel:

Zusammenfassung
Jonah Hill plays Michael Finkel a recently terminated New York Times journalist who's struggling for work after a story gone wrong. One day he receives a phone call from a man regarding an FBI Most Wanted individual named Christian Longo who's been captured and claimed to be living as Finkel. Longo and Finkel meet and form a potentially marriage shattering bond while Longo is in prison awaiting his trial. Finkel exchanges journalism tips for the real events behind Longo's alleged heinous acts of murdering his family. Through the twists and turns in the movie only at the end will Finkel uncover the True Story.
Andere Titel die gerade angesehen werden