Saving Zoë - (2019) - Netflix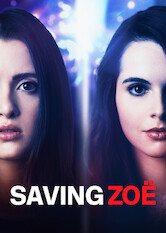 1h35m -
Dramas
A reserved high school freshman acts out when she recovers a diary that offers clues to a secret world that could be behind her sister's murder.
Regisseur:

Jeffrey G. Hunt

Besetzung:

Whitney Goin

,

Giorgia Whigham

,

Annie Jacob

,

Vanessa Marano

,

Ken Jeong

,

Evan Castelloe

,

Laura Marano

,

Jason Davis

,

Nathaniel Buzolic

,

Michael Provost

,

Christopher Tavarez

,

Chris Tavarez

Netflix-Wertung:

4.9/5
Rotten Tomatoes Wertung:
0/100
Verfügbar in:

In deiner Region nicht verfügbar? Melde dich bei ExpressVPN an und schalte Netflix frei!

Verfügbar seit:
2020-01-15
Trailer:
Ähnliche Titel:

Zusammenfassung
The high school freshman kid sister of the murdered Zoë finds her diary, which sheds new light on the murder missed by the police. She investigates.
Andere Titel die gerade angesehen werden