De ce eu? - (2015) - Netflix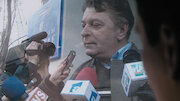 2h6m -
Dramas
A young prosecutor is assigned a career-making case involving a colleague but soon starts to question the motivations behind the charges.
Regisseur:

Tudor Giurgiu

Besetzung:

Dan Condurache

,

Emilian Oprea

,

Alin Florea

,

Andreea Vasile

,

Mihai Smarandache

,

Lucretia Mandric

,

Liviu Pintileasa

,

Mihai Constantin

Netflix-Wertung:

7.6/5
Rotten Tomatoes Wertung:
0/100
Verfügbar in:

In deiner Region nicht verfügbar? Melde dich bei ExpressVPN an und schalte Netflix frei!

Verfügbar seit:
2019-12-01
Ähnliche Titel:

Zusammenfassung
Cristian, a young idealistic prosecutor whose career is on the rise, tries to crack a case against a senior colleague accused of corruption. The dilemma of choosing between his career and the truth weighs heavily on his shoulders. Looking further to solve the case, he enters a danger zone paved with unexpected and painful revelations.
Andere Titel die gerade angesehen werden