O Grande Gonzalez - (2015) - Netflix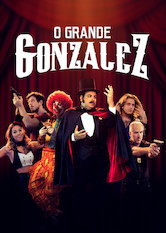 TV Shows
When an illusionist's magic trick results in a tragic death at a children's party, the guests form a bizarre lineup of murder suspects.
Regisseur:
-
Besetzung:

Joao Vicente de Castro

,

Clarice Falcao

,

Gabriel Totoro

,

Thati Lopes

,

Rafael Infante

,

Flavio Pardal

,

Luis Lobianco

,

Antonio Tabet

,

Gregorio Duvivier

,

Camillo Borges

,

Fabio Porchat

,

Felipe Absalao

Netflix-Wertung:

7.6/5
Rotten Tomatoes Wertung:
0/100
Verfügbar in:

In deiner Region nicht verfügbar? Melde dich bei ExpressVPN an und schalte Netflix frei!

Verfügbar seit:
2019-12-01
Ähnliche Titel:

Zusammenfassung
During a children's party, the magical Gonzalez dies after an unsuccessful trick. Drowning, poisoning, accident, murder: all research lines will be followed by the police and everyone is a suspect.
Andere Titel die gerade angesehen werden