The Lies Within - (2019) - Netflix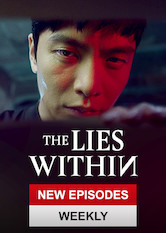 TV Shows
After her father dies and her husband goes missing, Kim Seo-hui teams up with detective Jo Tae-sik and joins the National Assembly.
Regisseur:
-
Besetzung:

Seo Hyun-woo

,

Song Young-chang

,

Lee Min-ki

,

Kim Jong-soo

,

Yun Jong-seok

,

On Ju-wan

,

Lee Jun-hyeok

,

Lee Jun-hyuk

,

Lee Yoo-young

,

Min-ki Lee

,

Yoo-Young Lee

Netflix-Wertung:

0.0/5
Rotten Tomatoes Wertung:
0/100
Verfügbar in:

In deiner Region nicht verfügbar? Melde dich bei ExpressVPN an und schalte Netflix frei!

Verfügbar seit:
2019-10-12
Ähnliche Titel:

Zusammenfassung
A woman, whose husband disappears, joins the National Assembly and teams up with a detective in her search for the truth. The two of them work together to break through the silence and lies that people spill to protect their own interests.
Andere Titel die gerade angesehen werden