Alelí - (2019) - Netflix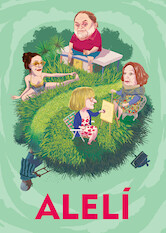 1h28m -
Comedies
Mourning their father's death, a dysfunctional trio of siblings must face selling their beloved childhood beach house — and dealing with each other.
Regisseur:

Leticia Jorge

,

Leticia Jorge Romero

Besetzung:

Georgina Yankelevich

,

Nestor Guzzini

,

Pablo Tate

,

Romina Peluffo

,

Laila Reyes Silberberg

,

Julio Icasuriaga

,

Mirella Pascual

,

Carla Moscatelli

,

Cristina Moran

,

Geronimo Pizzanelli

Netflix-Wertung:

6.7/5
Rotten Tomatoes Wertung:
0/100
Verfügbar in:

In deiner Region nicht verfügbar? Melde dich bei ExpressVPN an und schalte Netflix frei!

Verfügbar seit:
2020-04-16
Trailer:
Ähnliche Titel:

Zusammenfassung
The death of their father causes three dysfunctional siblings to fight over their beloved childhood home.
Andere Titel die gerade angesehen werden