Prey - (2021) - Netflix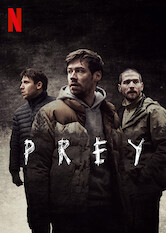 So entsperren Sie jede Film- und Fernsehsendung auf Netflix
1h27m -
Thrillers
A hiking trip into the wild turns into a desperate bid for survival for five friends on the run from a mysterious shooter.
Regisseur:

Thomas Sieben

Besetzung:

David Kross

,

Hanno Koffler

,

Maria Ehrich

,

Robert Finster

,

Yung Ngo

,

Klaus Steinbacher

,

Livia Matthes

,

Nellie Thalbach

Netflix-Wertung:

4.7/5
Rotten Tomatoes Wertung:
NA
Verfügbar in:

Nicht verfügbar, wo Sie wohnen? Erfahren Sie, wie Sie Netflix entsperren und diesen Titel ansehen.

Verfügbar seit:
2021-09-11
Trailer:
Ähnliche Titel:

Zusammenfassung
While working in a dam in Africa the American hydraulic engineer Tom Newman brings his family to spend a couple of days in the Leopard's Rest Lodge. His fourteen year-old daughter Jessica is having friction with her stepmother Amy since she does not accept the divorce of her parents. On the next morning Amy Jessica and her brother David go in a game drive with a ranger while Tom goes to the dam. While driving off-road David asks the ranger to stop the jeep to go to the "toilet" and unexpectedly they are attacked by a group of starving lions that kill and eat the ranger. Amy Jessica and David are trapped in the jeep and stalked by the wild lions. When Tom returns to the hotel and finds that his family has not returned from the game he asks for help to the experienced hunter and guide Crawford and together they seek Tom's family.
Andere Titel die gerade angesehen werden